EQ2 Questlist Journal UI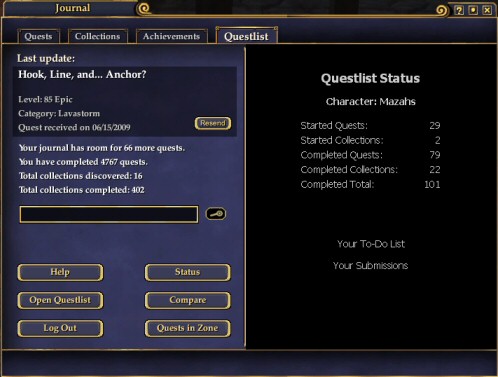 This Journal UI will greatly improve the way you update your personal Questlist, as well as ensure that the general Questlist will stay as accurate as it can be.
The UI adds a new tab to the Quest Journal where all the Questlist functions can be accessed, and in the latest version it even attempts to update your questlist automatically when you start or complete a quest or collection, no more having to remember to click a button.
In addition to updating your Questlist from inside the game, the UI will also automatically submit unknown or incorrectly listed quests so they can be added to the list or corrected. New quests will require a little bit of manual input to make the info as accurate as possible though.
Please note that this UI mod does NOT work on non-english language versions of the game.
Features:
Automatically mark quests and collections on the Questlist when you start or complete them.
Submit new quests to the Questlist from inside the Quest Journal.
Tasks that can't be done from the Journal can be done via the ingame browser by clicking the 'Open Questlist' button.
Quest details on the Questlist are automatically updated if they do not match those in the Journal.
View your personal status page to see the total count of quests you have marked on the Questlist, as well as see your quest To-Do list and the status of any missing quests you have submitted.
Search for quests on the Questlist and add them to your To-Do list from inside the Quest Journal.
View a list of all the quests you haven't started that start in the zone you are currently in.
View the quests you have marked as completed in the same format as the completed part of the journal, to make it easier to track down quests you forgot to mark.
Spoiler buttons that look up any quest in your journal on EQ2i or ZAM in the ingame browser.
Installation:
If you already have another UI mod installed for the game, installing this one should be very easy. Simply download the file from the link below and unzip it to the folder where your other UI is installed. If you have EQ2Map installed it should be something like 'C:\Program Files\Sony\Everquest II\UI\EQ2Map'.
If you don't already have another UI installed, I recommend you check out this page on EQ2Interface for more detailed installation instructions.